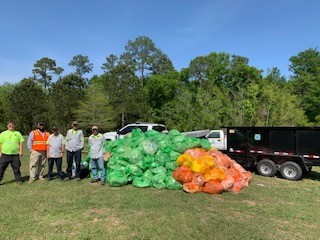 Earth Day was Friday, April 22. This year's theme was #InvestinOurPlanet, and SWANA members were in full force, taking part in activities that helped ensure a greener tomorrow. Here is a summary of some of the great work our members did.
Victoria Hoffman, a Recycling Coordinator at Beaufort County Solid Waste & Recycle, participated in the county-wide litter cleanup. Beaufort County employees as well as City of Beaufort and Town of Bluffton employees worked together to pick up roadside litter. Volunteers collected a total of 540 bags of litter—bringing the total amount to 10,280 lbs./5.34 tons!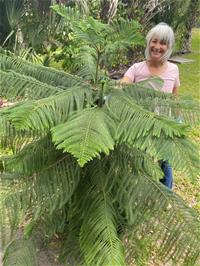 Ramon Rivera, Environmental Scientist, and others from Diamond Scientific planted Norfolk Island Pine trees.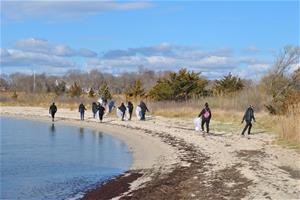 Winter Bros. employees, including SWANA member Corinne Witcomb, Social Media & Marketing Coordinator, partnered with the Save The Great South Bay organization to volunteer time and resources to help keep the Great South Bay clean and free of litter. The team was able to pick up between 800 and 1000 lbs. of trash!
Member Jennifer Barron, Staff Assistant III, reported that every April Hendry County hosts a Toxic Round Up and Amnesty Week for Earth Day. The Toxic Round Up allows for residents to bring in any household hazardous waste for disposal. The Amnesty Week allows residents to bring in any household garbage, construction materials, horticulture materials, white goods, and tires for disposal. Both events last the whole week and are free for Hendry County residents.
Kayla Kleber, Sales & Marketing Manager, noted that Nova Products made a commitment to #InvestinOurPlanet. She said, "The actions we take can have significant impacts on our environment, public health, local wildlife, and waterways. This is why we are working on a Sustainable Roadmap & Action Plan that will include bold yet achievable and measurable targets."
Nova Products also celebrated with a mini street clean-up. Kayla and her trusty sidekick, Lennon, cleared out litter from the ditches in the industrial area where the Nova Products plant and other local businesses are located. While at times Lennon kept forgetting the mission was to collect and not eat the litter, he still did a pretty good job.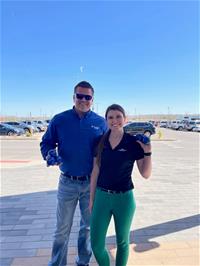 Mark Niceley, Environmental Services Manager, of City of Thornton Environmental Services Division handed out earth day balls and answered compost and recycling questions at the Denver Premium Outlets. Sandee Timmons, also a SWANA member, did the same at the Westgate Community School.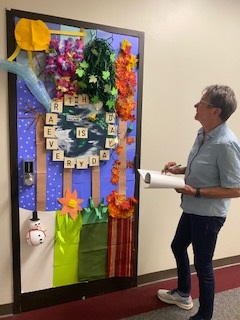 SWANA members Wendy McNatt, Recycling Coordinator, and Marcia Papin, Solid Waste Manager, helped judge an Earth Day door decorating contest at Greenville County. Materials used included cleaned recyclables and repurposed materials from each office. The inaugural Greenville County Square Earth Day Door Decorating Contest was sponsored by Greenville Soil & Water, Litter Ends Here, Keep Greenville County Beautiful, and Greenville County Solid Waste Division.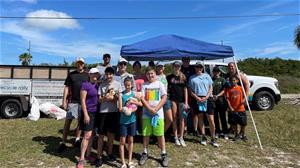 Members from Pinellas County Government Department of Solid Waste volunteered with Keep Pinellas Beautiful to remove 340 pounds of litter from Gandy Beach.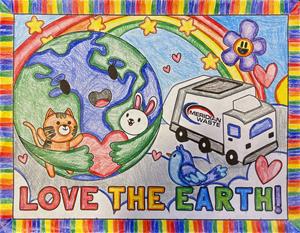 Meridian Waste, an organization with many SWANA members, had their third annual Earth Day-themed coloring contest, "Brightening the World" for children from five to 10-years of age.
Rosie Albright, Customer Retention Manager at Recyclist, volunteered at Eco-Cycle's Center for Hard-to-Recycle Materials in Boulder, CO. She manned the education table as part of a scavenger hunt activity.
Thanks to all the SWANA members that invested in our planet this year!