The SWANA Young Professionals (YP) group continues to grow and expand across the country. SWANA YP members have been busy this past year speaking at SWANA events, leading teams, mentoring students, and making strides in every aspect of the industry. Let's get to know some of these upcoming industry leaders!
Meet Brynn Mosello – Sustainability & Communications Director – Mazza Recycling Services, Ltd.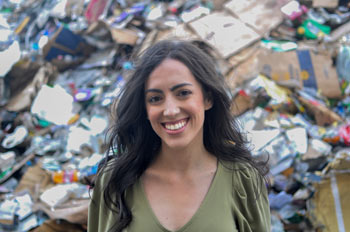 Brynn Mosello is a Sustainability and Communications Director at Mazza Recycling Services, Ltd in Tinton Falls, NJ. She is responsible for driving change in Mazza Recycling's sustainable business operations through advocacy and partnerships, as well as through their Greener Tomorrow environmental education program. She advanced Mazza Recycling's mission of creating a more sustainable future and protecting the environment in the communities they service.
One way she helped drive Mazza Recycling's mission was by spearheading and developing Mazza Recycling Internship Program. She also developed and designed Mazza Recycling's Annual Sustainability report. She takes a leadership role in all of Mazza Recycling's charitable initiatives and brand partnerships, working with Colgate Palmolive to design and promote the campaign around their recyclable tubes. Brynn also drafted proposals that led to Mazza Recycling's Facility of the Year Award from the NJDEP and NWRA, as well as their Polypropylene Recycling Grant from the Recycling Partnership.
Brynn is a Waste360 2022 Waste 40 Under 40 Winner, as well as a Woman of ESG through the Environmental Solutions Group brought to you by Heil Trucking company. She is also a member of the Tinton Falls Green Team.
When asked about her experiences with SWANA, she said, "I just joined the Young Professionals Committee but work a lot with ACUA and the community relations team associated with SWANA. I regularly attend conferences. I hope to be a more active member in the future!"
Brynn continued, "Being a YP member at SWANA is a good way to build experience in the Waste Management industry and learn from other like-minded professionals. I am always seeking opportunities to meet people who are working towards the same goals, and SWANA provides speaking opportunities, educational seminars, and other outlets to do so."
Click Here to apply or nominate someone to be featured in the next YP Spotlight!
Not a SWANA YP Member?
Visit swana.org/YP411 to learn more about the group and become a YP member at the special discounted rate for full access to mentors, job openings, discounted webinars, and more! Or sign-up for SWANA's YP Community forum for FREE to engage in industry discussions and receive updates on all things "YP".