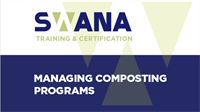 Managing Composting Programs addresses concepts critical to successfully managing composting programs, including the rationale for composting, planning and site development, economics, and operations. Managing Composting Programs discusses best practices, emerging technologies, and management issues characteristic of municipal composting programs. The course consists of class lectures, discussions, activities, and an optional facility tour.
Who Should Attend
Professionals who manage or would like to manage municipal composting programs; operators of municipal composting programs, consultants, or anyone with interest in the field of composting.
Course Content
The text for the course is Managing Composting Programs. This comprehensive manual covers these topics including supplemental images, graphs, examples, and exercises.
The Importance of Composting as a Component of Solid Waste Management
Compost Uses, Markets & Compost Quality
Composting Principles
Composting Methods
Facility Site Development and Equipment
System Planning and Economics
Operations and Troubleshooting
Regulatory Management
Organic Material Collection
Additional Ways to Manage Organics