In honor of International Women's Day on March 8 and Women's History Month, SWANA is highlighting women in the industry who have shown their dedication and hard work. In this male-dominated industry, each woman has had her own unique experience.
Risa Weinberger joined the industry in 1979. In 2003, Weinberger built her own engineering firm, Risa Weinberger & Associates, and is still the President. She is a licensed Professional Engineer in Texas and has a Bachelor of Engineering degree in Environmental and Water Resources Engineering from Vanderbilt University.
Weinberger joined GRCDA, the former name of the organization now known as SWANA, when the chapter was first established in Texas. She is now active in the Chapter's safety committee and has been a SWANA faculty member since 2004. She teaches the Compost Program Management Course and the Organics Collection Course, and addresses other related topics through on-line programs and speaking at chapter and national SWANA events. She even got an opportunity to teach the SWANA composting course to people from all over the Pacific islands recently at the Pacific Island Environmental Conference on Guam!
She spent many years designing and permitting landfills, and working on studies and plans for clients in the solid waste arena. She currently focuses on composting, taking projects from planning through facility permitting, plans and specifications, construction, and operations. She has also recently done MRF permitting and other environmental permitting for her clients.
We talked to Weinberger to get her perspective on her time in the industry.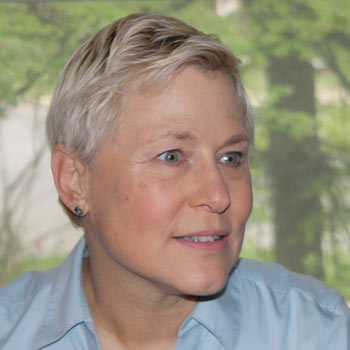 How long have you been in the industry?
Risa Weinberger (RW): I've been in the industry essentially since I got out of engineering school in '79. It was unusual for people to go into solid waste directly after school then. Most people that got into the industry back then started out somewhere else and somehow migrated there, but I really set out to be in the solid waste industry from the beginning.
How did you get into the industry?
RW: I set out to enter the solid waste industry because I thought it was interesting and I was lucky enough to be in an environmental engineering program that actually taught solid waste management when very few engineering schools did. I thought it was really interesting and it seemed to be an emerging field that other people were not paying a lot of attention to at that time, so it made it intriguing to me.

What is it like being a woman in this industry?
RW: When I first started there were not a lot of women in the industry. I was typically the only woman in the room, and in some cases it took a while to get other people in the industry to recognize me as a professional. In the beginning, there were instances where I was assumed to be an admin, rather than an engineer, and some people seemed to be surprised that I actually had some technical background.
What progress have you seen being made in the industry?
RW: Well, in the very beginning, it was all about "pick it up and bury it." That was important because we were just learning how to do that properly, back then. Then waste-to-energy came along. The company that I worked for was very involved in introducing waste-to-energy projects to the United States. I was lucky enough to assist on several of those projects in the very beginning. Landfills and collection systems are still essential and there are still innovations to be made there, but the real energy has moved on to landfill diversion, recycling, and the area that I'm primarily involved in now, organics management. When I first got in the business, no one would have thought that there would be a focus on organics management. Now, I love the direction things are going. Solid waste professionals are much more interested in sustainability and I love the fact that I also touch climate change and other very important developing fields that are part of this industry. I never dreamed of that 40 years ago, but it is that evolution of the solid waste management profession that has kept it interesting and relevant for me.
What progress do you hope to see for the future?
RW: I would hope to see continued appreciation for the importance of managing organics and recovering the value from the organic portion of the waste stream. This includes improving soil health, reducing greenhouse gas emissions, improving water conservation, and even improving food production through composting and other emerging methods. I hope that we continue to recognize that we can't achieve anything remotely resembling zero waste conditions without addressing the organic waste stream. Solid waste managers – SWANA members – have the tools to accomplish all of that. It is exciting!
Do you consider yourself a pioneer in the industry? If not, what do you think it takes to be a pioneer?
RW: I think everybody that is working in the industry is a pioneer because solid waste industry is evolving and growing and changing so much. Yes, I consider myself a pioneer, but I think everybody else in this business that's serious about contributing to this industry is also a pioneer. They have to be. Nothing about what we do is static.
What accomplishments are you most proud of?
RW: I'm most proud of building my own firm. I went out on my own in 2003, so this is 17 years now, and I'm really proud of the fact that through my own firm I'm recognized as somebody who can and has really contributed to the solid waste industry, particularly in composting and organics management. I am proud of the fact that I have been able to develop new areas of expertise and work with other engineers on my team to solve problems for my clients every day.
I'm proud of the fact that I'm trying to advance composting in Texas and elsewhere. I'm really proud of the fact that I was able to build on my career working with top-notch professionals such that I could launch a successful small consulting firm on my own.
Who is your role model?
RW: I had several role models. There was one woman in particular that I really looked up to and that I learned a lot from, Mary Wees. She blazed a trail ahead of me as a highly respected engineer in solid waste management. When I was getting started, she had already established herself as an undisputed authority in the field of solid waste, particularly in waste-to-energy project development. She was immediately a role model for me.
Another role model is Bill Hindman, who introduced me to SWANA. He was on the Chapter Board when he hired me and remained active on the Board until just a few years ago. One of the first things he told me when we held board meetings in our conference room was "you're going to go to all of those meetings" and I said "Yes, sir." So, I went to pretty much all of the GRCDA board meetings and then TxSWANA board meetings for many years and that's how I got involved in SWANA. I hope that SWANA members introduce their younger associates to SWANA, as he did. He recognized very early that landfill design and permitting was an emerging field back then, and an important one. He was a very highly respected person in landfill engineering and consulting and it was a privilege to work directly under him for a number of years. I admired his integrity and the way that everybody respected him in the field. He was a tremendous influence on me.
What advice do you have for other women entering a male-dominated industry?
RW: Don't get a chip on your shoulder. Don't make a big deal out of the fact that you're a female in a male-dominated industry. Just be confident and smart and have a high level of integrity and you're going to be just fine. If you go into it thinking "well I'm a woman and I'm going to have to fight twice as hard, and it's going to be terrible and, everybody's going to be against me," you're not going to do very well. Just get out there and show people that you are smart and qualified and that you work hard and have a high level of integrity. I would give that advice to anybody - male or female. Wearing it as a chip on your shoulder will not help you.