Q&A with MRF Summit speaker Kanika Greenlee
SWANA and the Institute of Scrap Recycling Industries, Inc. (ISRI) partner for the return of the MRF Summit, taking place November 18–19, 2020. This year's virtual event will explore key issues affecting Materials Recovery Facilities and recycling, including the impact of automation and technology on the workforce, the changing material stream, creating demand for recovered material, the business economics of MRFs, and contamination.
Many communities have cut contamination in recent years, but it continues to be a major problem for many MRFs and recycling programs. Some municipal and industry leaders have successfully reduced contamination by as much as 25 percent. These industry leaders will reveal how they successfully tackled recycling contamination, and how you can too in the MRF Summit session, "Cut Contamination at the Curbside and in the MRF."
Kanika Greenlee, Environmental Programs Director for the Atlanta Department of Public Works, will be a speaker of this session with Adam Ortiz, Director of the Department of Environmental Protection, Montgomery County, MD, Peter Keller, Vice President of Recycling and Sustainability for Republic Services, Inc., and moderator, Craig Wittig from The Recycling Partnership. Ms. Greenlee answered some questions as we prepare for the MRF Summit coming November 18–19. Check out her Q&A below!
Why is the MRF Summit important?

Kanika Green (KG): It is important for communities and local governments come together and share best practices and lessons learned. Many times, we face the same or similar challenges and having a forum such as the MRF summit is the perfect opportunity to learn and share ideas and solutions.

What is your session about and why should participants tune in?

KG: Cutting Contamination in your Curbside Recycling Program is the focus of this session. You will want to tune in to find out ways your community can cut contamination by up to 20%.

What do you hope attendees take away from your session?

KG: Tips, tools and best management practices from on how you can cut contamination at the curb. As well as key insights as to why some recycling contamination programs may be more effective than others.

What do you hope is the future of this industry?

KG: The future of this industry is technology – we have to embrace it and use it! My other hope is that we move to more simple and effective communication to residents about recycling.

Can you share any information on any interesting projects you are working on?

KG: We hope to develop recycling profile behaviors for residential recycling customers so that we can communicate in ways that resonate with them.
Kanika Greenlee, Environmental Programs Director, Atlanta Department of Public Works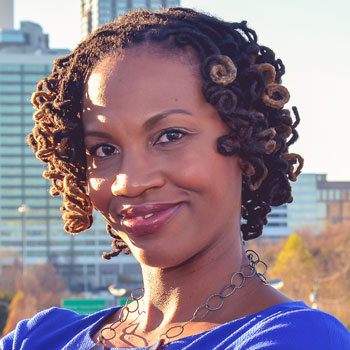 Kanika Greenlee has served as executive director for Keep Atlanta Beautiful Commission since 2015, an entity which partners with government, private industry, and local community groups to empower residents to sustain cleaner and greener environments in Atlanta. In 2017, Ms. Greenlee became the first Environmental Programs Director for the city of Atlanta Department of Public Works (DPW), where she oversees solid waste administration, recycling, and internal/external environmental partnerships. In her role, she collaborates with community partners to develop programs to increase recycling. In this role, she encourages residents to embrace the 'Adopt-A-Spot' and other litter reduction programs, as well as participate in city beautification projects. In 2018 Ms. Greenlee was appointed to the Keep America Beautiful national board, and in 2019 she began serving as vice chair of the board. As an Atlanta native, Ms. Greenlee has worked in government and the nonprofit sector for more than 15 years. When she is not working, she enjoys traveling, "foodie" experiences, music, and a good podcast.
Hear Ms. Greenlee speak at this year's MRF Summit on Thursday, November 19 at 2:00 p.m. EST. Register for the MRF Summit at https://mrfsummit.org/.