A Peek into WASTECON®
December 5-8, 2022 | San Diego Convention Center
Want to see what it's like to attend SWANA's Executive Leadership Conference? Check out our interactive video below to learn more, register, or RSVP if you're already coming! Help us make this the best WASTECON ever!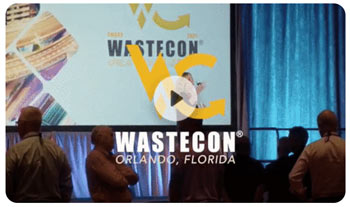 View the interactive video
In the interactive video, you can hear from actual WASTECON attendees about what the event is like while getting a look at the main stage, exhibit hall, and networking events.
"You know, one of the things about WASTECON is not only are we sharing information, but we're doing it in a collective way."
"It's a feeling you can't describe. It's been so long to get out and just be able to talk to people and it's just really awesome to be back in person."
The video also captures some soundbites from our past keynotes.
"We talked a little bit about what diversity, equity, and inclusion is. Let's talk about what you can do."
"Leaders, you may know it's really important that you can get things done, but its as important that you get the right things done."
Will you join us at WASTECON 2022?
Did you know? Now through the end of the month you can register at our discounted Early Bird rate. Register now for $100 off your registration.
Looking forward to seeing you there!