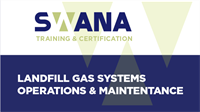 This course explores the daily challenges associated with the operation and maintenance of LFG systems by discussing generally accepted industry practices as well as some new and alternative approaches for the capture, control and management of landfill gas.
The information in this three-day course is useful for hands-on practical use in the field and presented in an easy-to-understand format. Class participants and instructors discuss alternative practices, lessons learned, and issues debated in the industry.
Course Objectives
The objectives of this course are to:
Compile and present key portions of the general body of knowledge about operating and maintaining LFG control systems.
Present information in an easy-to-understand format useful for hands-on practical use in the field.
Present accepted practices and procedures for LFG control practices.
Who Should Attend
Experienced landfill operators, consultants and operators new to the landfill gas industry.
Course Content
The course manual is Landfill Gas Systems Operation & Maintenance and can be used as a source of information, practices and procedures for the operation of landfill gas collection and control systems for both inexperienced and experienced operators.
Topics covered in the course include, but are not limited to:
LFG Fundamentals
LFG Control Function Overview
Summary of LFG Regulatory Requirements
LFG Monitoring System
LFG Wellfield and Collection System
LFG Treatment and Disposal Facility
LFG System Operation
Data Management
Instrumentation
Facility Management and Operation Documentation
Landfill and LFG Safety