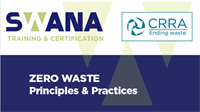 "Waste is a design flaw" (Kate Kreba)
Professionals who take this new Zero Waste Principles & Practices training course will have the ability to integrate their understanding of Zero Waste with their existing waste management systems, practices, and policies to move local systems toward locally-defined Zero Waste goals.
The Zero Waste Principles & Practices training course is a joint undertaking of SWANA and the California Resource Recovery Association. CRRA is dedicated to achieving environmental sustainability in and beyond California through Zero Waste strategies. SWANA, with its work in 45 chapters across the United States and Canada, is committed to educating professionals working in the industry and to moving the industry as a whole from a focus on solid waste management to resource management.
Content and Approach
The Zero Waste Principles & Practices course encompasses a broad overview of Zero Waste principles and practices in 10 modules covering public policy, programs, technology, and measurement:
Introduction to Zero Waste, including a survey of different definitions and perspectives
What's In Your Waste Stream?
Upstream, Midstream, and Downstream: understanding Zero Waste strategies as they affect each stage of product lifestyles
Collections Options
Processing Technology Options
Managing Organics
Public Venues and Challenging Materials
Changing Behavior through Education and Outreach
Financing and Funding
Contracting and Partnerships
The course provides many opportunities for discussion among instructors and participants. It draws on current materials and examples from outside the published manual and engages students in several in-class exercises.
Who Should Attend?
Entry and mid-level managers of programs and systems serving local governments and other industry professionals that work in an advisory or consulting capacity with municipal programs and staff.