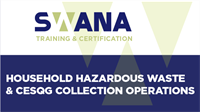 This training is intended for those with direct, supervisory and oversight responsibilities for efficiently and safely handling Household Hazardous Waste (HHW) and Conditionally Exempt Small Quantity Generator (CESQG) waste.
Household Hazardous Waste & CESQG Collection Operations is a cooperative effort of the North American Hazardous Materials Management Association (NAHMMA) and SWANA. In addition to extensive classroom activities, following topics with supplemental images, graphs, tables, and examples are covered.
Regulatory Overview
Waste Management
Personal Protection
Emergency Response
Chemical, Health and Operational Hazards
This course is designed to satisfy 24-hour OSHA HAZWOPER health and safety training as required by many states for HHW/CESQG operations.
Who Should Attend
Collection facility staff, health department staff, building officials, CESQG inspectors, technical assistance staff, state and local regulators, and other HHW/CESQG professionals who have responsibilities related to handling these wastes.